EVENTS & OFFERS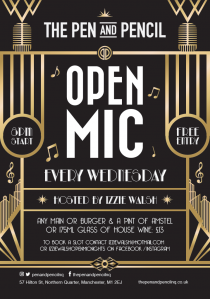 Live Music every Wednesday
We have amazing artists from the world of Blues, Jazz, Folk, Indie & Funk playing every Wednesday night, from 8pm
Free entry
Coming up: Wed 21st March:
Songs for Walter
+ drinks deals all night
Wed 28th March:
Bourbon and Blues with
Walklate and Fuschi
+ Four Roses Bourbon drinks offers all night
Wed 4th April:
Matty Fletcher
+ drinks deals all night
Wed 11th April:
Taylor & the Mason
+ drinks deals all night
Wed 18th April:
Jamie Borrowdale
+ drinks deals all night
Wed 25th April:
Bourbon and Blues with
Walklate and Fuschi
Four Roses Bourbon drinks offers all night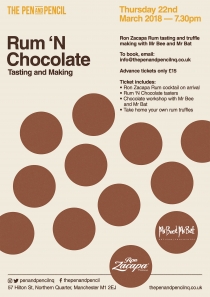 Rum 'N Chocolate
RUM LOVERS.
CHOCOLATE LOVERS.
ARE YOU READY?

How does an evening of rum drinking, chocolate tasting and truffle making sound?

We've teamed up with Ron Zacapa rum and Mr Bee and Mr Bat chocolatiers to create every chocolate and rum lovers dream Easter celebration!

Tickets include:
Specially created Ron Zacapa rum cocktail on arrival
Rum and chocolate tasters (someone's gotta do it)
Rum truffle making workshop with Mr Bee and Mr Bat
Take home your very own rum truffles - a perfect Easter gift ... or late night snack.

Date: Thur 22nd March
Time: 7:30pm
Price: £15
To book: Email info@thepenandpencilnq.co.uk (advance tickets only)
Rock the Mic!
Guess who's back with a brand new name??
Due to popular demand, our Rock the Mic night is RETURNING - and this year it's going to be even bigger and even better! Who needs karaoke when you can rock out with your own LIVE BAND?
Not only have the Rock the Mic band designed their own app, so you request songs from their repertoire on the night, but you can even get your requests in early and they'll learn your favourite songs before the event:
https://app.rockthemicmcr.com
The next Rock the Mic date:
Thur 29th March
With no work tomorrow, this is the place to start your bank holiday weekend!
If you've ever wanted to be the lead singer of a band - this is a night you don't want to miss.
The event will start with live music from the band and then it's your time to get up, get involved and get singing! Prizes at the end of the night for the best performance.
Plus, we're teaming up with Pabst Blue Ribbon to offer 2 for £6 cans.
FREE ENTRY
https://vimeo.com/250637962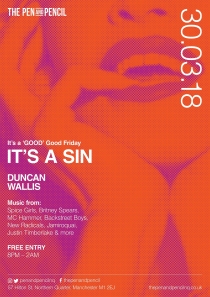 It's a Sin - Good Friday Party
Start the Easter Bank Holiday Weekend off with not a just a bang, but a POP - this is the night for unashamedly, unapologetic, guilty pleasure tracks!

Welcome to the pop safe space.

Oh yes, we're talking Spice Girls, Backstreet Boys, S Club 7. DJ Duncan Wallis will be playing all your guilty pleasure faves, 8pm-2am.

It's going to be a good Good Friday!

Date: Friday 30th March
Time: 8pm-2am
Price: Free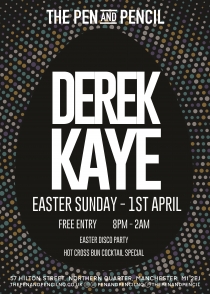 Disco Easter Party
We are very EGGcited (sorry) to welcome back disco hero, Derek Kaye, for our Easter Sunday Bank Holiday Party on the 1st of April!

Celebrate the sound of disco, NO work tomorrow and try our hot cross bun cocktail specials!

We're going from 8pm 'til the early hours. FREE ENTRY.

See you on the dancefloor.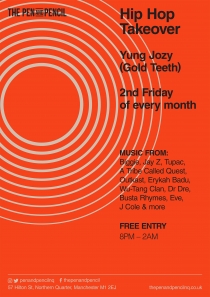 Hip Hop Takeover
Every 2nd Friday of the month we're doing things a little differently.

Veteran hip-hop DJ, Yung Jozy (Gold Teeth), will be playing nothing but all the best in hip-hop from 8pm 'til late! Think old and modern, classics and new gems.

Expect music from:

Biggie , Drake , TLC , Ashanti , Rihanna , Ja Rule , Busta Rhymes , Eve , Pharrell , Jay Z , Beyonce , Tupac , Destiny's Child , SWV , Usher , B2K , Omarion , Big Sean , 2 Chainz , Sunshine Anderson , Ciara , The Weeknd , Lil Uzi Vert , Future , Anderson Paak , Kendrick Lamar , Cardi B , Migos , Childish Gambino , Sean Paul , Chris Brown , Bryson Tiller , DJ Khaled , Ty Dollar Sign , Mabel , Not3s , Mr. Eazi , J Cole , J Dilla , A Tribe Called Quest , Erykah Badu , Outkast , Dr Dre , Snoop Dogg , DMX , Xzibi

AND MANY MANY MORE !


FREE ENTRY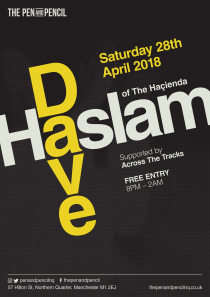 Dave Haslam is BACK!
For our big, end of April party, we're welcoming back Haçienda legend, Dave Haslam!
Dave Haslam DJ'd over 450 times at the Haçienda throughout the 'Madchester' years in the 80s. His open-minded, ground-breaking DJing became the focus for Madchester's indie dance fraternity. Ian Brown, Tim Burgess, Justin Roberton and the Chemical Brothers have all credited Haslam as an inspiration. He describes his DJing philosophy as "playing the best records ever made, one after the other" and has been nicknamed "the man with golden ears."
Across the Tracks
will be opening up the night from 8pm and we'll be going until the early hours.
When: Sat 28th April
Time: 8pm start
Free entry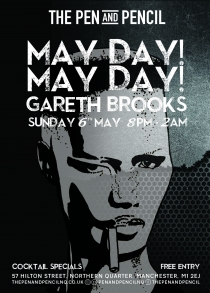 May Day! May Day!
Oh we do love stretching out the weekend when there's a bank holiday involved.
Thanks to the May Day bank holiday, there's no work on Monday which can only mean three things - music, cocktails, dancing.
We're looking forward to welcoming back
Gareth Brooks
for another Hip Hop fuelled May Day party with plenty of cocktail specials.
When: Sunday 6th May
Time: 8pm - late
Free as a bee.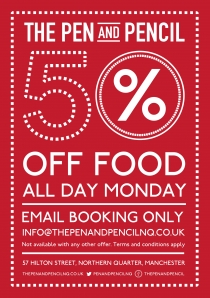 50% Off Food [Mondays]
So, to make Monday's bearable, or dare we say it, enjoyable - we're giving you 50% off food! (That's 50% off the price, we won't nick half your lunch.)
Enjoy a whole 50% off food all day, every Monday, when you book in advance by email:
info@thepenandpencilnq.co.uk
.
More Information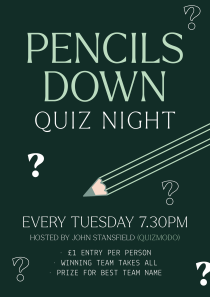 Pencils Down Quiz [Tuesdays]
Starting at 7.30pm, our popular weekly quiz night consists of 4 rounds including film and TV, general knowledge, music and a special 'wildcard' round. Each week the losing team will choose the wildcard round for the following week from a list of options. It's £1 entry, winnter takes all and there's also a round of the beers on offer for the best team name!
More Information
Free Flowing Bottomless Brunch
Taking its inspiration from Manhattan's 1950's steakhouses, brunch at The Pen and Pencil is not only big, but also occasionally bottomless! Join us on the last Saturday of every month for our special 'bottomless brunch' deal.
BOOKING IS ESSENTIAL. Email info@thepenandpencilnq.co.uk to book.
More Information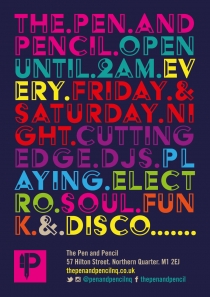 Late Night DJs
We have cherry-picked an eclectic range of some of the best DJs in Manchester to entertain guests every weekend 'til 2am.
Find each week's DJ listings on our Twitter and Facebook pages.
Expect everything from house - funk - disco - soul - chilled grooves - rnb - indie pop - electronic every Wednesday-Saturday throughout December!
More Information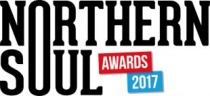 Bar of the Year !
We just want to take a moment to show off because ...
WE WON!
Northern Soul
awarded us Best Bar of the Year and so of course, our award is now sat proudly in our bar.
Thanks for all the lovely messages we've had so far!
PRIVATE HIRE
At The Pen and Pencil, we have a space that lends itself to any occasion. Whether it's a birthday party, business meeting, presentation, or hen do, we can help. Our private room can host 65 guests or for a bigger event we also offer the full venue which accommodates up to 200 guests (full venue hire available Sundays and Mondays).

We have a number of drinks and food packages available, and we also offer bespoke drinks packages to suit you and your event.
To take a look at our full private hire brochure or for more information, please email info@thepenandpencilnq.co.uk or give us a call on 0161 660 3303.
MESSAGE US
Thank you for your enquiry, we will contact you as soon as possible.
JOBS
The Pen & Pencil
Love what we do and want to join the team? We're always looking out for great bartenders, floor staff and chefs to add to our family. We offer excellent opportunities and look to grow and retain talent within the company. Sound perfect for you? Send your CV to:

recruitment@thepenandpencilnq.co.uk