EVENTS & NEWS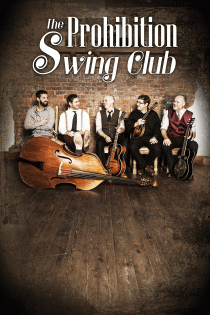 Gin 'N Swing Night!
What: The Prohibition Swing Club will be playing authentic Western Swing from the 1920's, 30s and 40s. A mixture of trad jazz numbers, swing, blues and boogie woogie. It's an infectious mixture which is perfect for dancing or just listening to with a Prohibition-era gin in your glass.
When: Wed 29th March, 7:30pm
Drinks offer: Gin & Tonic. £3.00
Food offer: Banquet for 2+ people available for pre order only.
Banquet includes: Confit pork belly, whole baked snapper stuffed fennel and citrus, fennel, apple and rocket salad, salt baked beets and goat's cheese, butternut puree, charred leeks and asparagus, salsa verde - £15pp. To pre order email info@thepenandpencilnq.co.uk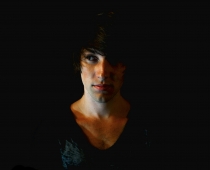 Borrowdale, Beer and Brisket Buns!
Jamie Borrowdale Live Music Night!

What: Jamie Borrowdale makes intense euphoric songs with an acoustic tone incorporated with large dance beats, meaningful lyrics, some rap, organic instruments, very soulful riffs and guitar solos. He performs with an acoustic guitar and a loop station when playing live and his sound packs a punch well, well above its weight for one man.
When: Wednesday 12th April, 8.00pm
Drinks offer: £3 bottle of Modelo Especial all night
Food offer: £10 for a *beer and Brisket Bun (*bottle of Modelo Especial)
Entry Price: Free
Listen: https://soundcloud.com/jborrowdale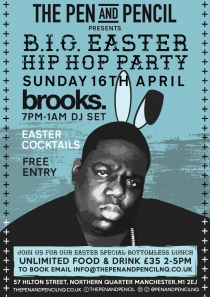 B.I.G. Easter Hip Hop Party
What: As part of our B.I.G. Easter Hip Hop Party, we will have a bottomless lunch from 2pm-5pm (pre order only) and DJ Gareth Brooks will be on the decks from 7pm-1am!
When: Sunday 16th April
Drinks offer: £5 Easter special cocktails all night.
Food offer: Bottomless lunch includes free-flow food and drinks all for just £35. Fill your boots with Eggs Benedict, Steak and Eggs, Avocado and Feta, Prosecco, Bloody Mary's and more!
Entry Price: Free.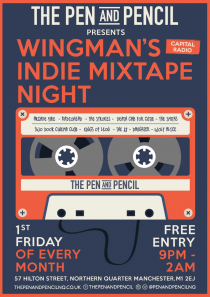 Wingman's Indie Mixtape Night!
On the first Friday of every month, Capital Manchester's very own Wingman will be playing all your favourite indie tracks from 9pm-2am.

Free entry!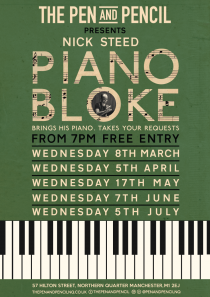 Piano Night, with Nick Steed
We're very excited about our new monthly event with the amazing piano vocalist, Nick Steed. Nick will be leaving songsheets on the tables and taking song requests all night! If that's not enough - there will also be food promos on the night. Get yourself 2x Steak Frites + a bottle of house wine for £30.00.
The event will start at 6.30pm on the following nights: Wed 8th Feb, Wed 8th March, Wed 5th April, Wed 17th May, Wed 7th June, Wed 5th July
Check out Nick Steed for yourself:
http://nicksteed.co.uk/


See you there!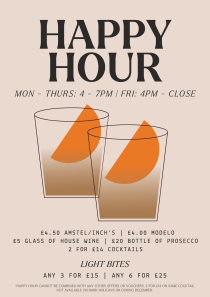 Happy Hour
Things are about to get real happy. New drinks deals every Monday to Friday from 5-7pm. 2 for £10 cocktails, £3 bottles of beer, £15 bottles of Prosecco and £10 bottles of house wine. Lovely.
More Information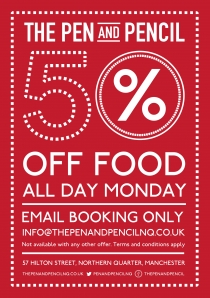 50% Off Food [Mondays]
Enjoy a whole 50% off food all day, every Monday, when you book in advance by email:
info@thepenandpencilnq.co.uk
.
As an extra special bonus for the January Blues we are offering 50% off Monday to Friday all day and night on our food with any booking made by email in advance!
*Booking is essential
More Information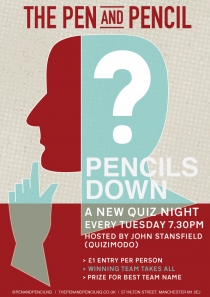 Pencils Down Quiz [Tuesdays]
Starting at 7.30pm, our popular weekly quiz night consists of 4 rounds including film and TV, general knowledge, music and a special 'wildcard' round. Each week the losing team will choose the wildcard round for the following week from a list of options. There's also a round of the beers on offer for the best team name.
More Information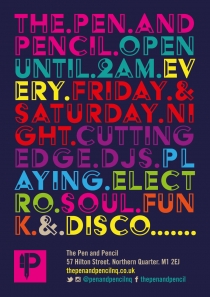 Late Night DJs [Fridays & Saturdays]
We have cherry-picked an eclectic range of some of the best DJs in Manchester to entertain guests every weekend 'til 2am.
Find each week's DJ listings on our Twitter and Facebook pages.
Expect everything from house - funk - disco - soul - chilled grooves - rnb - indie pop - electronic.
More Information
Free Flowing Bottomless Brunch
Taking its inspiration from Manhattan's 1950's steakhouses, brunch at The Pen and Pencil is not only big, but also occasionally bottomless! Join us on the last Saturday of every month for our special 'bottomless brunch' deal.
BOOKING IS ESSENTIAL. Email info@thepenandpencilnq.co.uk to book.
More Information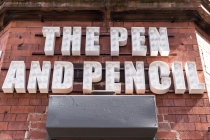 In The News
Word gets out about The Pen and Pencil. Here's just a preview of all the lovely things people say about us, with snippets from Manchester Evening News, I Love MCR, Manchester Business Review, Squaremeal, Manchester Confidential and The Tab.
More Information
PRIVATE HIRE
At The Pen and Pencil, we have a space that lends itself to any occasion. Whether it's a birthday party, business meeting, presentation, or hen do, we can help. Our private room can host 65 guests or for a bigger event we also offer the full venue which accommodates up to 200 guests (full venue hire available Sundays and Mondays).

We have a number of drinks and food packages available, and we also offer bespoke drinks packages to suit you and your event.
To take a look at our full private hire brochure or for more information, please email info@thepenandpencilnq.co.uk or give us a call on 0161 660 3303.
MESSAGE US
Thank you for your enquiry, we will contact you as soon as possible.
JOBS
The Pen & Pencil
Love what we do and want to join the team? We're always looking out for great bartenders, floor staff and chefs to add to our family. We offer excellent opportunities and look to grow and retain talent within the company. Sound perfect for you? Send your CV to:

recruitment@thepenandpencilnq.co.uk
Current Vacancies –